Replica Batons For Sale
For years replica WWII German Field Marshal batons have been produced, historically the majority of them being high quality jeweler-made pieces which have commanded premium prices and escalated in value, much like original militaria. These jeweler-made pieces were all produced in very limited quantities and have been largely absorbed into the collector market, occasionally surfacing for resale. Prices of these older jeweler-made examples can range anywhere from $7,000 - $15,000 and have sold at European auctions from 8,000 – 10,500 Euros.
In the last couple of years the market has now been flooded with cheaply made replicas ranging anywhere from a few hundred dollars to just over a thousand, most of which are have been manufactured of wood painted shafts or molded plastic resin and have incorrect features with poorly detailed painted eagles, crosses and inscription rings. Some have also been made in metal, quickly molded and copied from nicer replicas, but lacking in overall quality. If all you are looking for is something that is cheap and representative, but not necessarily correct, these will probably work for you and there seems to be plenty out there to choose from. If, however, you are a more discerning collector and looking for something that "looks original" and is of a much higher quality, the batons I have to offer should satisfy your needs without having to pay tens of thousands of dollars for a jeweler made piece.
If you check the detailed photos below, I think you will find that these are the highest quality replica batons available on the market, at a mid-range price reflective of that quality. Before you to decide to buy a baton on the internet, make sure you see good, detailed pictures and know who you are dealing with. Click on any of the thumbnail photos in my listings below and you will see nice, large photos showing close-up details of my batons….I think you'll find them to be the best out there for the price!
NOTE: These were made in very limited quantities (as few as five, in one example) and several have now sold out and are no longer available. Please contact me to see what is available. In some cases, I may be able to produce another example from remaining parts.
WARNING:
There are several websites based in Asia and the Middle East that are using stolen images from my website, to include my crossed batons logo, Rommel with glowing baton and photographs of my replica batons, as well as photographs of original batons. They are using these stolen images as examples of batons that they claim to be producing & selling. This is nothing new, as some of them have been using stolen images of original uniforms and insignia for years, and they use them as "examples" of the reproduction products that they are making. These are scams, people, so be careful out there!
Sample of Detail of Batons and Inscriptions
<![if !vml]>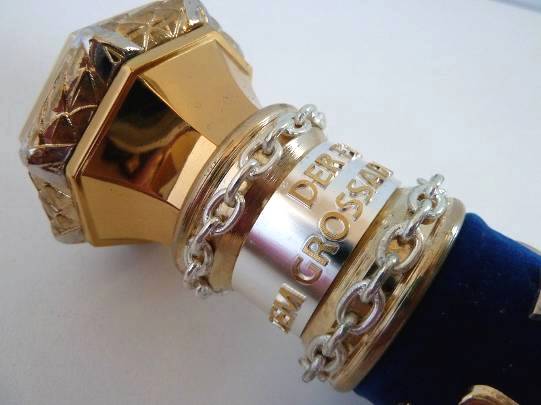 <![endif]>
<![if !vml]>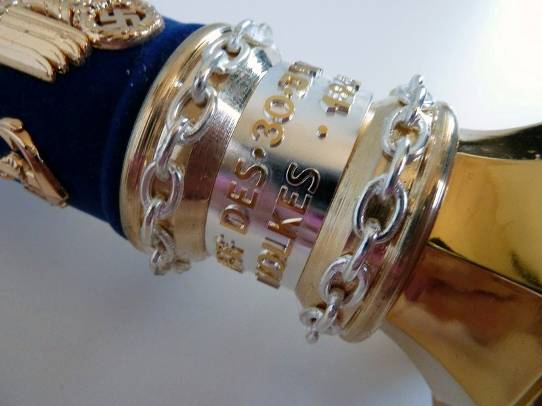 <![endif]>
<![if !vml]>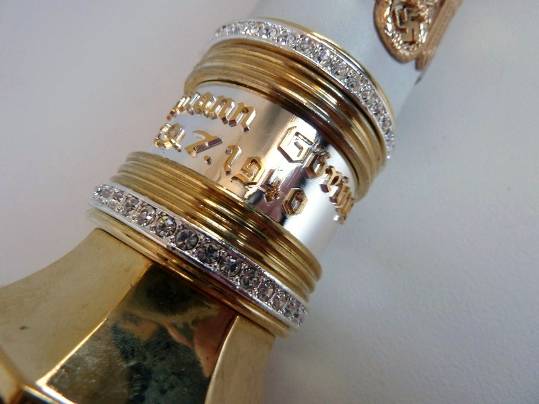 <![endif]>
<![if !vml]>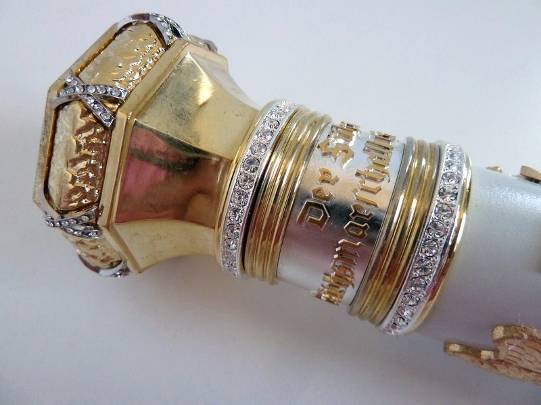 <![endif]>
The Marshal's Baton Line of Replica Field Marshal Batons
#4971

<![if !vml]><![endif]>

(click on photo for more detailed images)

Grossadmiral Donitz Baton

Full-size, quality made replica of Grossadmiral Karl Donitz's ceremonial Grossadmiral (Grandadmiral) baton. Baton shaft is covered in a blue velvet and decorated with gold plated wehrmacht eagles alternating gold fouled anchors and silver iron crosses with matte black painted centers centers. End caps have a U-Boat war badge superimposed over a wreath and a swastika at the other end. There are two inscription rings, one at each end with Donitz's name and promotion date and a dedication from Hitler. Comes complete with leather baton case (shown below).

Contact for availabilty

#4770

<![if !vml]><![endif]>

(click on photo for more detailed images)

Reichsmarschall Hermann Goring Baton

Full-size, quality made replica of Reichsmarschall Hermann Goring's ceremonial Reichsmarschall baton. Baton shaft is a high gloss ivory white enamel (the original RM baton was made of ivory). The shaft is decorated with gold plated wehrmacht eagles alternating with silver iron crosses and Balkan crosses, both with matte black painted centers. End caps have a Luftwaffe eagle at one end and a balkan cross at the other. There are two inscription rings, one at each end with Goring's name and promotion date and a dedication from Hitler. The end caps and inscription rings are encrusted with faux diamonds and create an incredibly beautiful baton. Comes complete with leather baton case (shown below).

Contact for availabilty

#5145

<![if !vml]><![endif]>

(click on photo for more detailed images)

Generalfeldmarschall Hermann Goring Baton

Full-size, quality made replica of Generalfeldmarschall Hermann Goring's ceremonial Field Marshal's baton. Baton shaft is light blue-grey velvet. The shaft is decorated with gold plated wehrmacht eagles alternating with silver iron crosses and Balkan crosses, both with matte black painted centers. End caps have a faux diamond encrusted Luftwaffe eagle and cover plate at one end and a balkan cross at the other (also available is the 1st version, which has no diamonds on the eagle/cover plate). There are two inscription rings, one at each end with Goring's name and Field Marshal promotion date. The ribbon surrounds on the sides are also encrusted with faux diamonds. This baton design was the basis for the later, Reichsmarschall baton. Comes complete with leather baton case (shown below).

Contact for availabilty
<![if !vml]>

<![endif]>