Mannequin Torsos
The Marshal's Baton is now offering mannequin torsos for display of your tunics. These torso forms can display most sizes of tunics and are based on standard mannequin form sizes from the 1930's, which is perfect for your vintage WWI and WWII uniforms. Each torso is manufactured from Ethafoam, which is a foam material that is deemed safe material for archival storage, so there is no concerns for damage to your vintage cloth. The white foam torso comes with a black, semi-matte painted wooden base that is adjustable in height up to 18" (though it is recommended that height be adjusted based on the bottom hem of the tunic and your preferred height above the base).
<![if !vml]>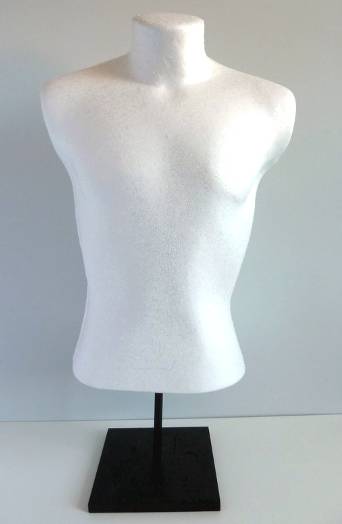 <![endif]>
Torso mannequins can display either just a tunic, or a cap and tunic.
| | |
| --- | --- |
| <![if !vml]><![endif]> | <![if !vml]><![endif]> |
Torso mannequins sizes are as follows;
Height of mannequin, hips to neck: 25 ½" / 65cm
Shoulder width: 18" / 46cm
Chest: 37" / 95cm
Neck: 14 ½" / 37cm
Black display base: 18" / 46cm
Price; $85 each
Shipping; U.S. $20 / Canada $45 / Europe $60 / Asia (please ask)
(Note: shipping price is per individual mannequin, there is no discount for multiple mannequin purchases due to shipping box size costs and limitations)
*Price change effective 11/20/13*
I do also have some premium display torsos and heads with painted faces and can offer custom and personality faces and mannequins. If you have a custom need, please ask and we can discuss the details and pricing.
<![if !vml]>
<![endif]>