Featured Items
Welcome to the Featured Items page, where unique and exotic items that are available for sale (some of which are in the Premium Militaria section) are explored in detail and for their historical significance.  This page will be regularly updated and feature both items that are already listed as well as new and exciting pieces worthy of inclusion.
If you would like more information and are interested in acquiring any of these interesting pieces of history, please contact me.
March 14, 2019 Update
Waffen-SS Totenkopf Standarte Oberbayern Obersturmfuhrer Officer Tunic
Update: Currently Available
<![if !vml]>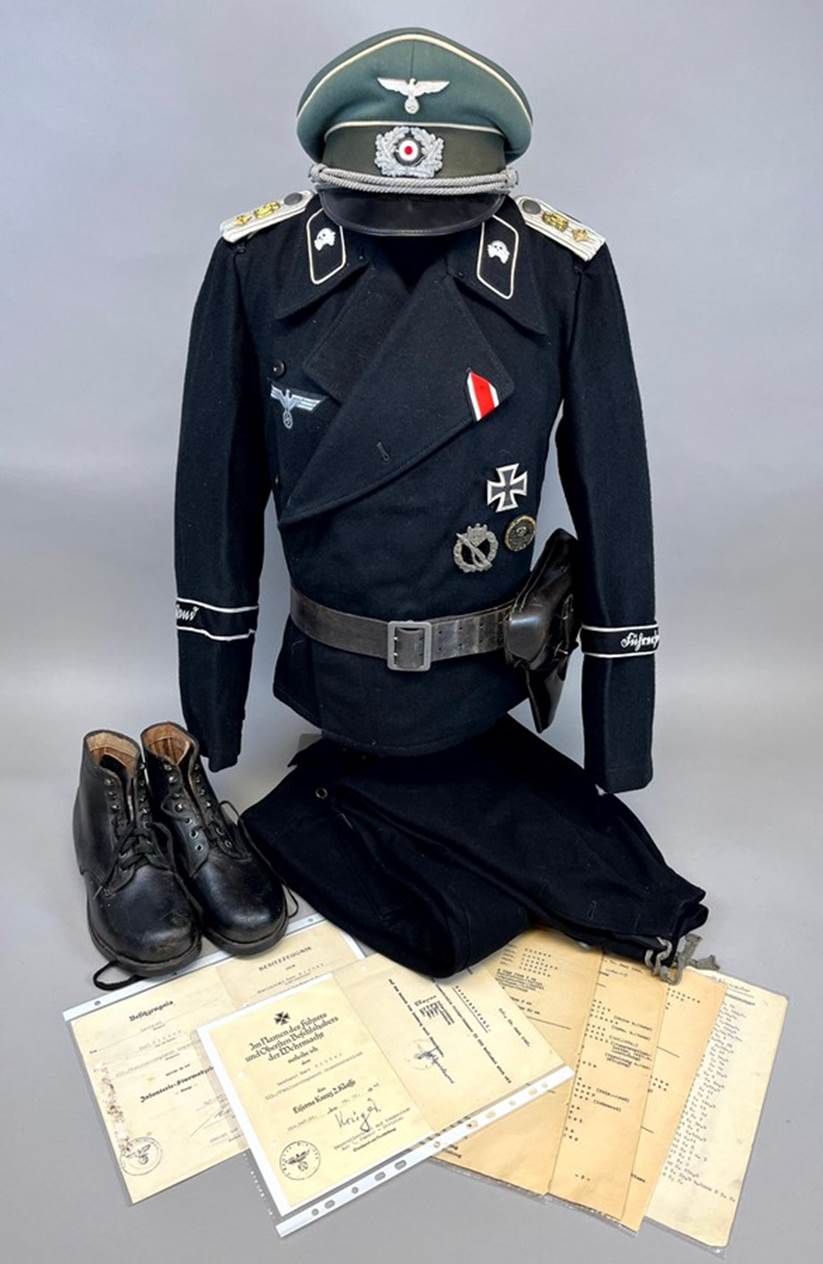 <![endif]>
<![if !vml]>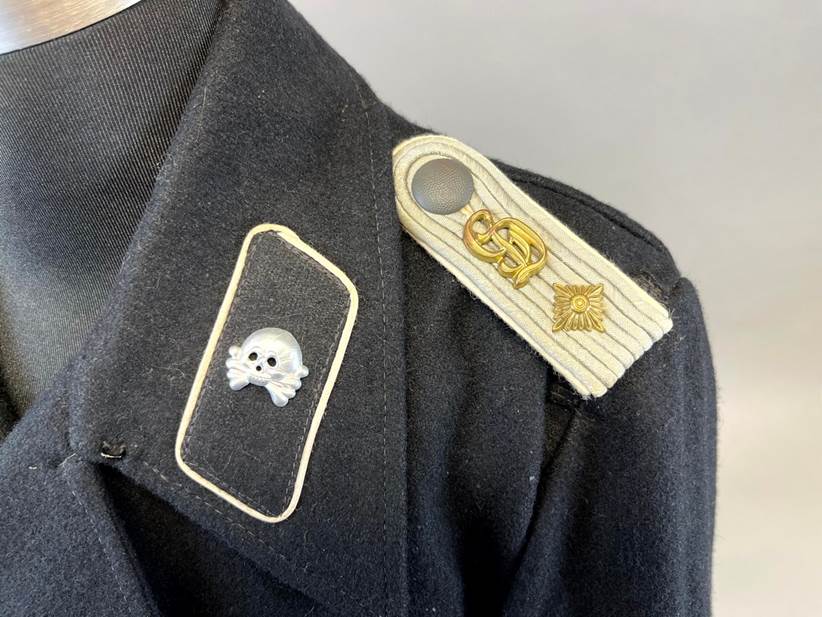 <![endif]>
<![if !vml]>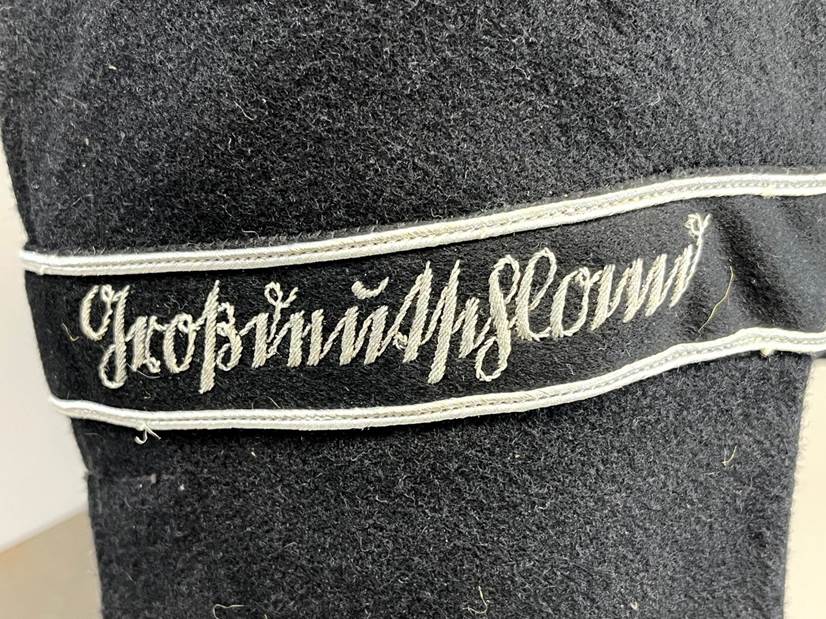 <![endif]>
<![if !vml]>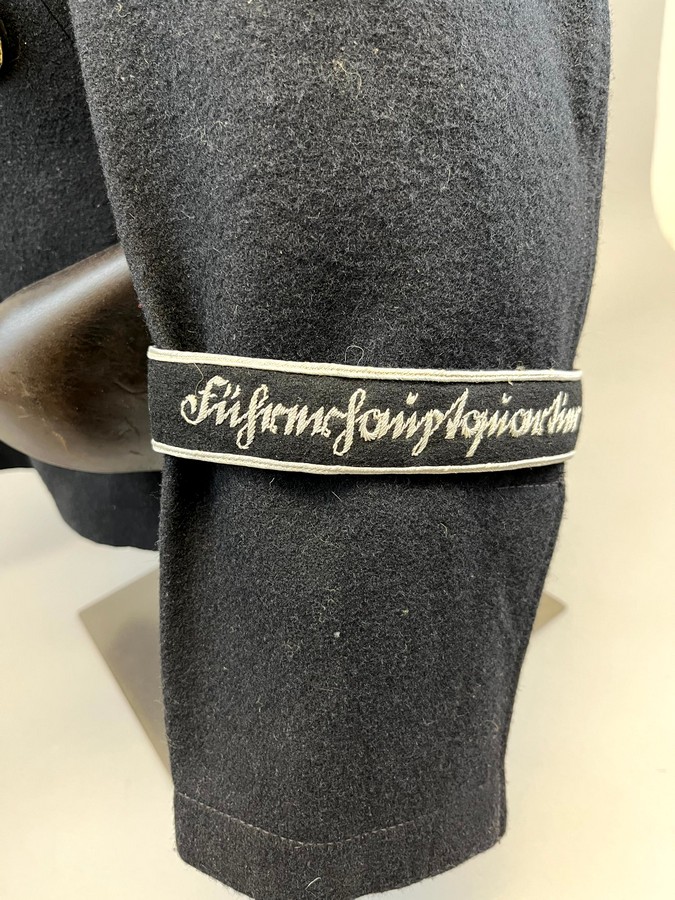 <![endif]>
<![if !vml]>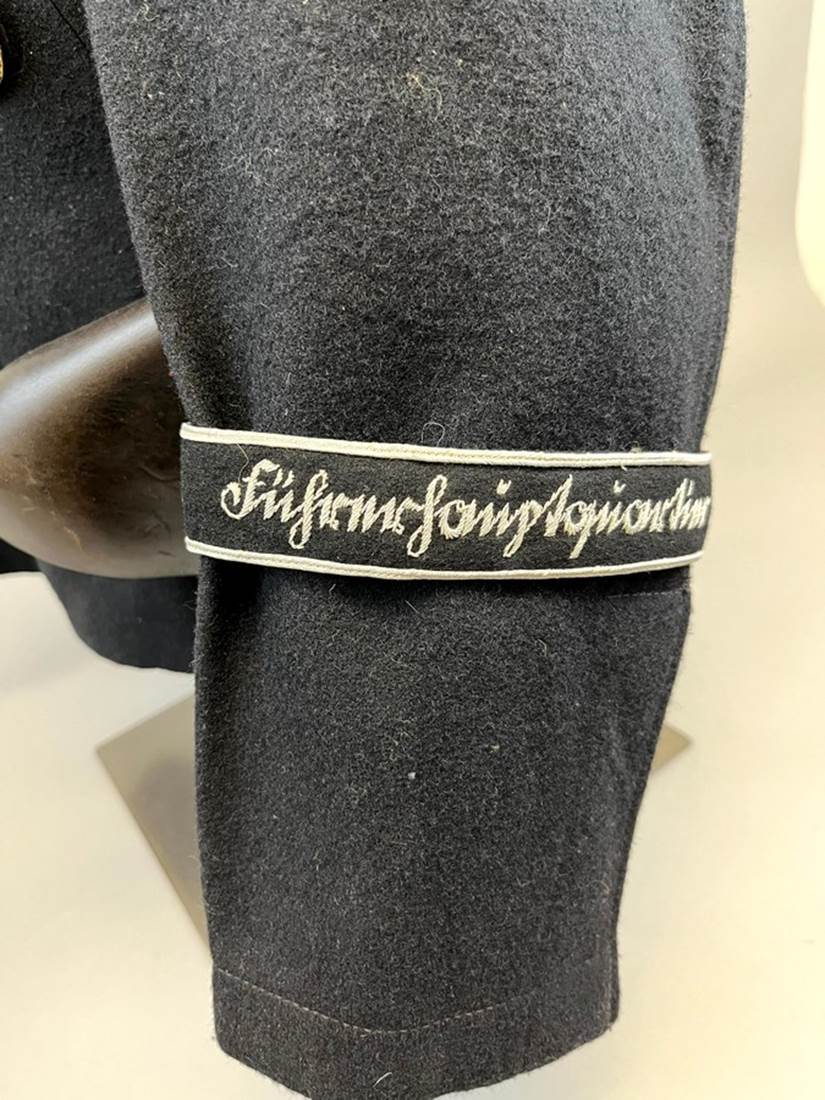 <![endif]>
<![if !vml]>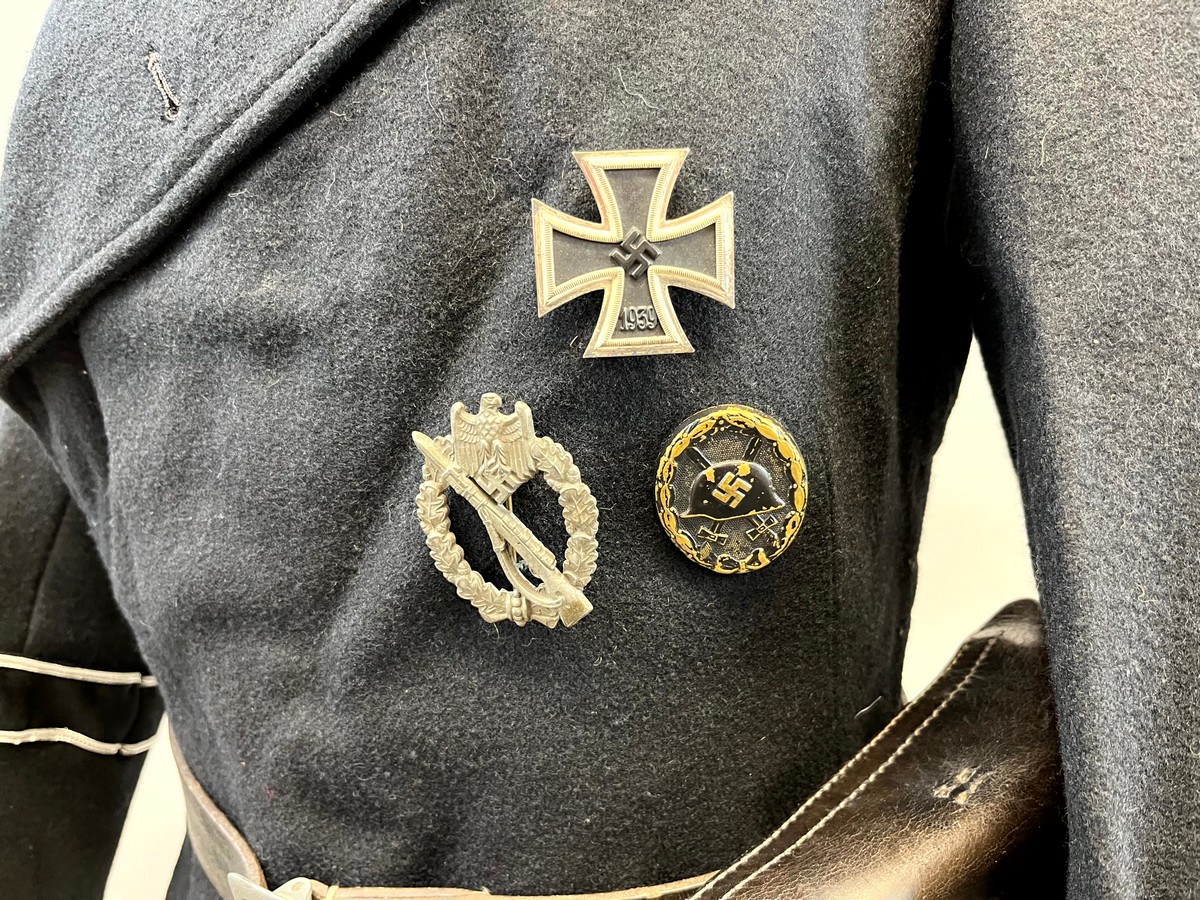 <![endif]>
<![if !vml]>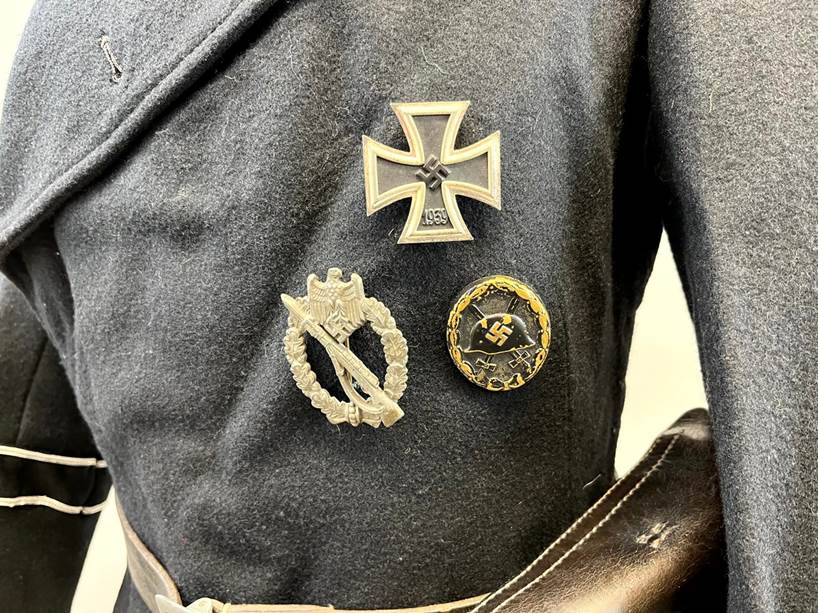 <![endif]>
Description:
Tailor-made model 39/40 officer tunic in a high-grade field-grey tricot wool, five button front panel with scalloped and pleated patch pockets, bottle green collar and silver-grey rayon lining. The tunic features a very rare machine-woven officer Totenkopf collar tab, an Oberbayern hand-embroidered Totenkopf cufftitle, a high-quality variant hand-embroidered officer sleeve eagle and shoulderboards with a numeral "1" cipher.
Background:
This tunic just came out of collection in which it has resided for 43 years.  It was originally obtained by Andrew Mollo, the well-known SS and uniform expert, author and historical film consultant (as well as producer).  Mr. Mollo authored many of the first available reference books on SS uniforms and has authored militaria reference books since the 1960's.  This same tunic is also featured in the Michael Beaver series of books "Uniforms of the Waffen-SS, Volume I" on pages 265 – 269 and is on the cover of the book by Jost W. Schneider "Their Honor Was Loyalty!".
History:
When SS men transferred over into the Waffen SS from the Allgemeine SS, they often transferred their traditional insignia to their new uniforms, as is the case with this particular example in which the "1" cipher and the skull cufftitle have carried over.
If you would like more information and are interested in acquiring this interesting piece of history, please contact me.
May 8, 2018 Update
Waffen SS Hauptsturmfuhrer of "Deutschland" Karl Burkhardt Tunic and Documentation Portfolio
Update: This item is currently SOLD
<![if !vml]><![endif]>

<![if !vml]><![endif]>

<![if !vml]><![endif]>

<![if !vml]><![endif]>

<![if !vml]><![endif]>

<![if !vml]><![endif]>

<![if !vml]><![endif]>

<![if !vml]><![endif]>

<![if !vml]><![endif]>

<![if !vml]><![endif]>

<![if !vml]><![endif]>

<![if !vml]><![endif]>

Description:

Field grey, M40 style tailor-made officers tunic made from a fine grade, lightweight whipcord material with a five button front, scalloped and pleated pockets and French cuffs. There are loops on the right breast for a DKiG award and three sets of loops on the left breast for combat awards.  Above the left breast pocket is a small ribbon bar and EKII and Russian Front ribbons are sewn to the buttonhole on the front panel.  Insignia consists of piped runic and rank tabs, a pair of shoulderboards each with two gold pips attached (one of the pips on each board is a brighter gold, indicating a later addition when rank was upgraded), a hand-embroidered officer quality sleeve eagle and an officer quality flatwire embroidered "Deutschland" cufftitle.  The tunic shows a modest amount of even wear (including some small abrasion on the inside of the cuffs) and the condition of the tunic is in overall very good to excellent condition with one snag on the upper right sleeve.  There is a tailor tag on the lining by the inside pocket and a matching name tag (with the officers name) on the inside of the pocket.

Background:

The tunic and document portfolio have become available from a large advanced SS collection in the Western United States that was recently dissolved.  The documents and research appear to have been done by an earlier owner in the Midwest.

History:

The tunic has been fully researched by a previous owner and is accompanied by a binder featuring over 70 pages of historical research on SS Hauptsturmfuhrer Karl Burkhardt, whom the tunic is named to.  Burkhardt was a veteran combat officer who commanded multiple companies in Deutschland on the Russian front from early 1941 until January of 1945 when he was transferred to Hohenstaufen.  Commanding infantry companies and panzer grenadier regiments, Burkhardt was wounded numerous times and was awarded the German Cross in Gold, EKI and EKII, the Wound Badge in both Black and Silver, the Infantry Assault Badge in Bronze, the Army Roll of Honor Clasp-1945 and the Eastern Front Medal. After being wounded four times, Burkhardt was killed leading his Hohenstaufen battalion near Sarcestur on March 13, 1945.  The document portfolio accompanying the tunic contains research from various archives (NSDAP Membership Files, SS Officer Files, Race and Settlement (RuSha) Files and SS Enlisted Men Files) including his Lebenslauf, personnel file, telegrams, official documents, photos of him and his wife and contemporary letters to various institutions requesting information.

SS Hauptsturmfuhrer Karl Burkhardt

<![if !vml]><![endif]>
October 19, 2017 Update
U-Boat Commander Heinrich Bleichrodt Jacket & Visor Cap
Update: This item is SOLD
<![if !vml]>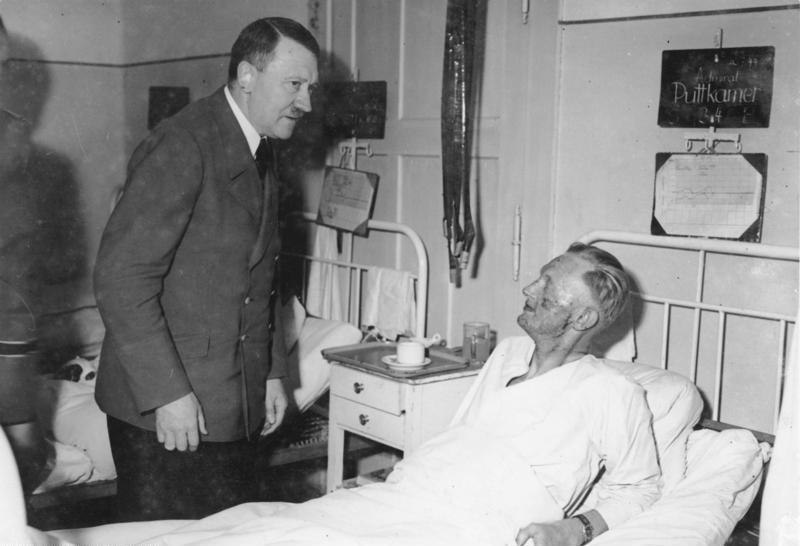 <![endif]>
<![if !vml]>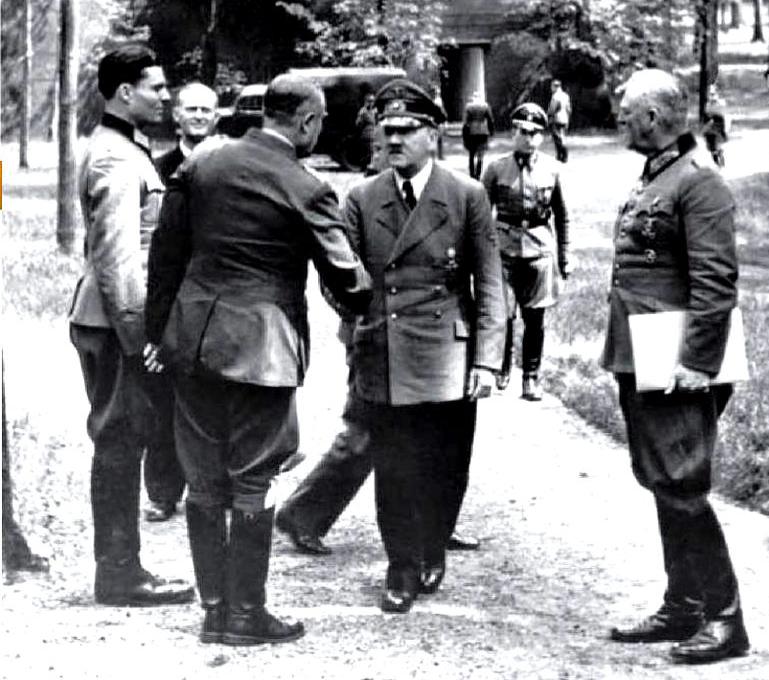 <![endif]>
<![if !vml]>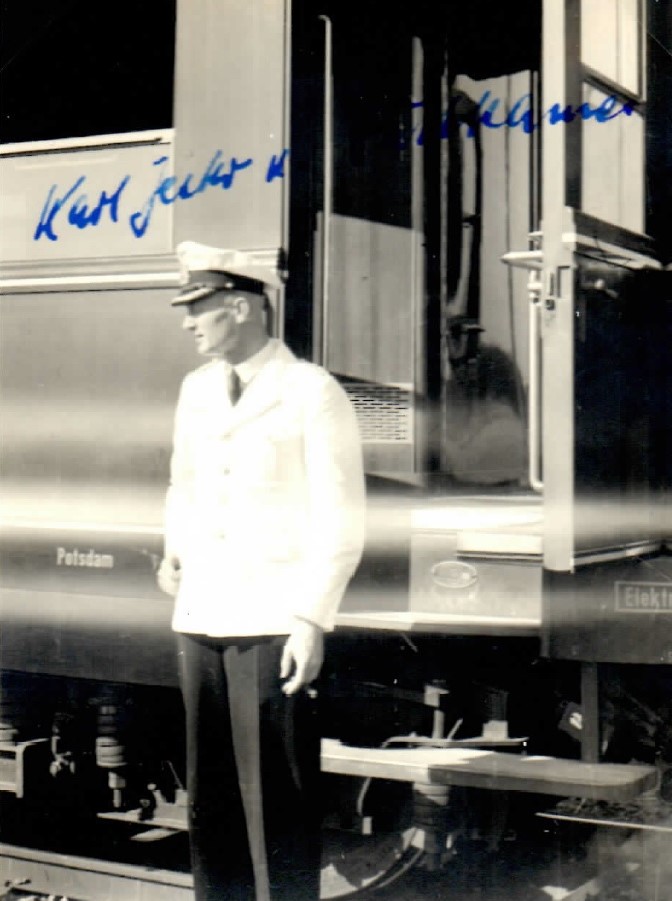 <![endif]>
<![if !vml]>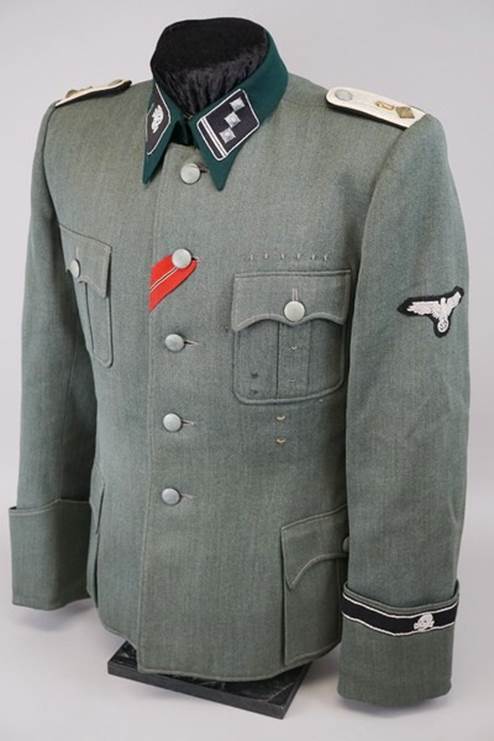 <![endif]>
<![if !vml]>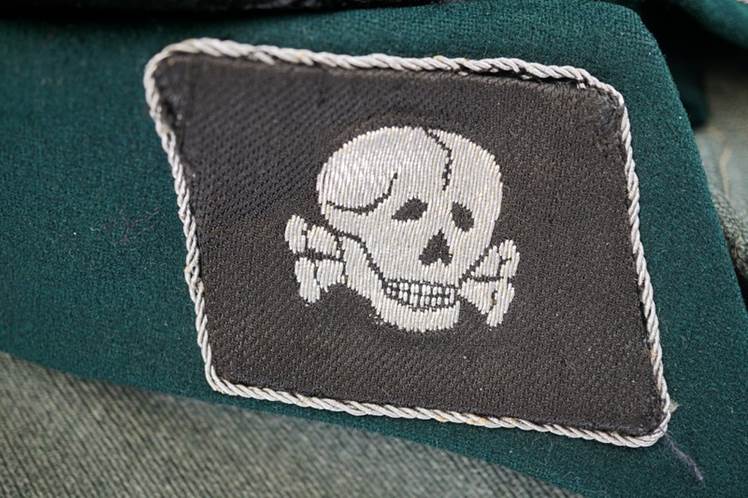 <![endif]>
Description:
Dark navy blue reefer jacket made from a very high quality, twill gabardine wool weave by the tailor J. Robrecht (Hans Thiele) in Kiel, which of course was the harbor for many U-Boat flotilla's as well as their training and manufacture.  The jacket features a gold bullion hand-embroidered breast eagle, bullion sleeve rank stripes for the rank of Korvettenkapitan and Bleichrodt's original awards (EKI screwback and Submarine War Badge) and ribbons.  The visor cap is a fixed blue-top made from a doeskin wool and has the initials "H" and "B" in metal affixed to the interior sweatband.  The cap shows regular wear from many years of us with some repairs to the sweatband, an upgraded visor with oakleaves attached when elevated in rank and the original eagle reattached from de-nazification. Also accompanying the grouping is a wartime signed photo of Bleichrodt in a frame.
Background:
This jacket, visor and photo were obtained from Bleichrodt's son in the late 1970's by a well-known (at the time) Kriegsmarine collector.  In the 1980's he then sold this grouping to the current owner. Both the reefer jacket and visor cap are featured in the reference book series "Uniforms & Traditions of the Kriegsmarine; Volume 1" by Angolia and Schlicht and can be viewed on pages 344 & 345.  There are also numerous pictures that can be easily found with a Google search of Bleichrodt wearing this exact same jacket.
History:
Heinrich Bleichrodt was a recipient of the Oakleaves to the Knights Cross of the Iron Cross and the Submarine War Badge with Diamonds. He was one of the most successful U-Boat Commanders of the second World War, commanding U-48, U-67 and U-109, sinking 24 ships and registering one of the highest tonnages sunk during the war.  His sinking of the "City of Benares", an un-marked evacuation ship that went down with 90 children onboard, generated some controversy and led to a war crimes trial at which he was acquitted.  In late 1942 Bleichrodt had a breakdown while at sea and relieved himself of command.  He spent the next two years in the U-Boat training division at Kiel as tactical instructor for officers until July of 1944 when he was appointed Chief of the 22nd U-Boat Flotilla.  Bleichrodt lived until January of 1977, when he passed away in Munich at the age of 67.
On the deck of the U-48; Commander Bleichrodt (center), Teddy Suhren (left) and Erich Zurn (right).
<![if !vml]>
<![endif]>
Heinrich Bleichrodt wearing this same reefer jacket.  Notice how the EKI is tilted slightly to the right….this is because it is a screwback award and easily turns in either direction, as it still does today.  The visor cap is a different on and reflects an earlier rank.
<![if !vml]>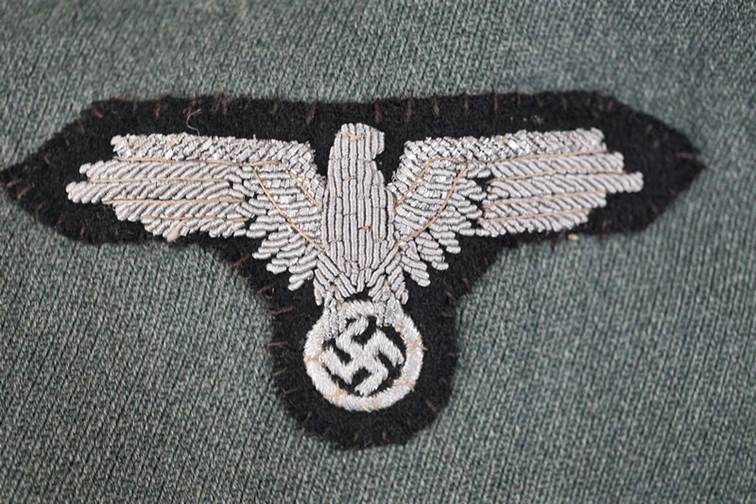 <![endif]>
Below a photo of the cover of the book "U-48 The Most Successful U-Boat of the Second World War" by Franz Kurowski, which documents the history of the U-48.  Bleichrodt commanded two patrols on U-48, one of which resulted in the sinking of the "City of Benares".
<![if !vml]>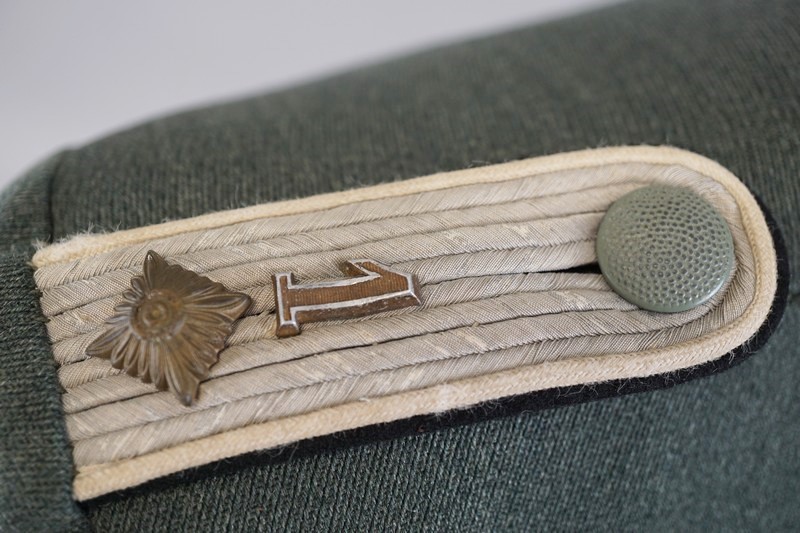 <![endif]>
July 12, 2017 Update
Konteradmiral Karl-Jesko von Puttkamer White Summer Tunic
Update: Available!
<![if !vml]>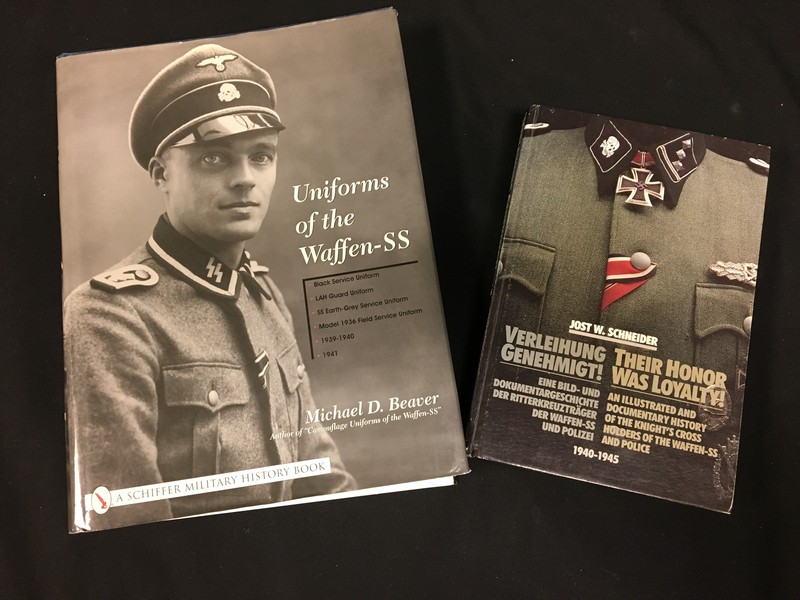 <![endif]>
<![if !vml]>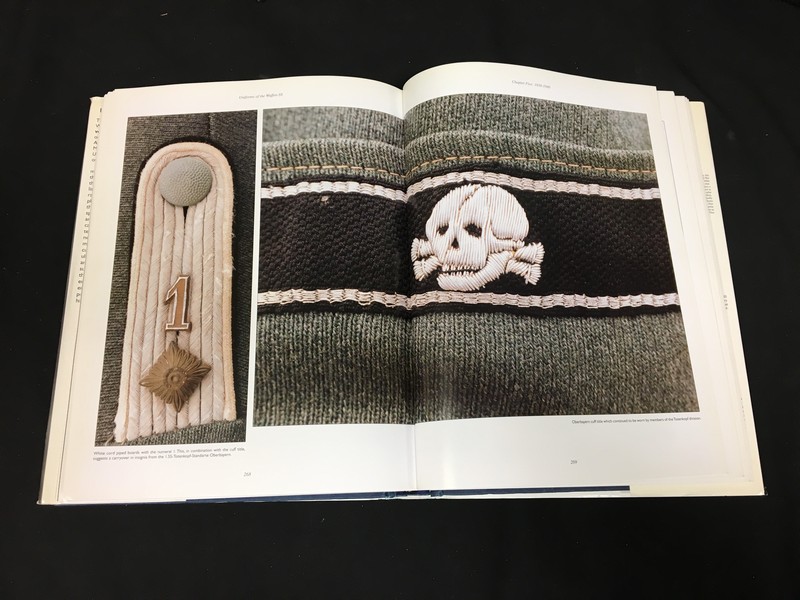 <![endif]>
<![if !vml]>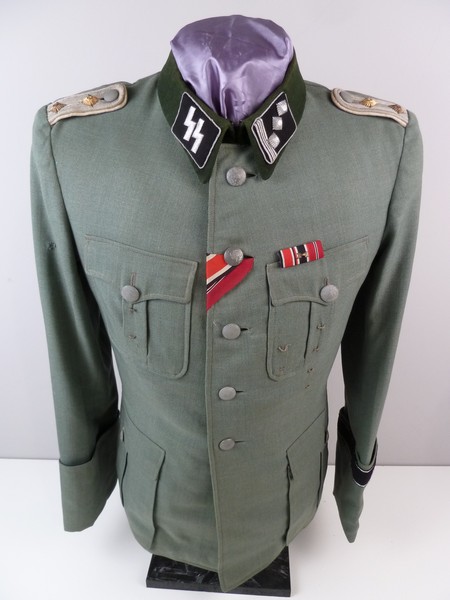 <![endif]>
Description:
White cotton twill summer tunic with removable insignia, named to Admiral von Puttkamer in absolute pristine condition.  The shoulderboards were carefully stored off the uniform in an envelope and look almost brand new as the bullion has very slight toning and is nice and bright.  The breast eagle is also stunning and is removable as well.  This is one of the cleanest white summer tunics I've ever encountered. 
Background:
This white tunic is part of a grouping of four uniforms (white tunic, frock coat, blue reefer jacket, leather overcoat) that were acquired directly from Admiral Puttkamer by the late collector Bill McClure.  If you are not familiar with McClure, he was one of the early pioneer collectors who contacted many of the Generals, Field Marshals, Admirals, etc. while they were still alive back in the 1960's and 1970's and bought the uniforms directly from these well-known officers.  As a result, there are now a number of fully provenanced personality uniforms sitting in collections throughout the world, some of which occasionally re-enter the market after decades of not being seen.  This tunic is fully provenanced and includes copies of a large quantity of documents, letters and signed photos as well as provenance (letters from Puttkamer to McClure stating that he sold his personal uniforms to McClure and a letter from McClure to the first collector who bought the grouping).  Since Puttkamer sold this grouping to McClure in 1970, there have only been two other owners.  You will also find all of these uniforms featured in the Angolia/Schlicht reference book series "Uniforms and Traditions of the Kriegsmarine".  I cannot stress enough how rare it is to find a grouping that is this well documented with provenance and having only been in two collections since the 1970's.  The current owner is keeping half of the grouping (a blue reefer jacket and leather greatcoat).  Photocopies of all provenance documents, photos and letters will be provided with this grouping, the owner will retain the originals.
History:
Konteradmiral von Puttkamer is most well known in collector and historian circles as being Hitler's Naval adjutant and for having been wounded in the July 20, 1944 attempt on Hitler's life by Oberst Claus von Stauffenberg.  As the Fuhrer's adjutant, Puttkamer was constantly at Hitler's side and is well-documented in period publicity photos, many of which he can be seen wearing the four uniforms that made up this original grouping.
<![if !vml]>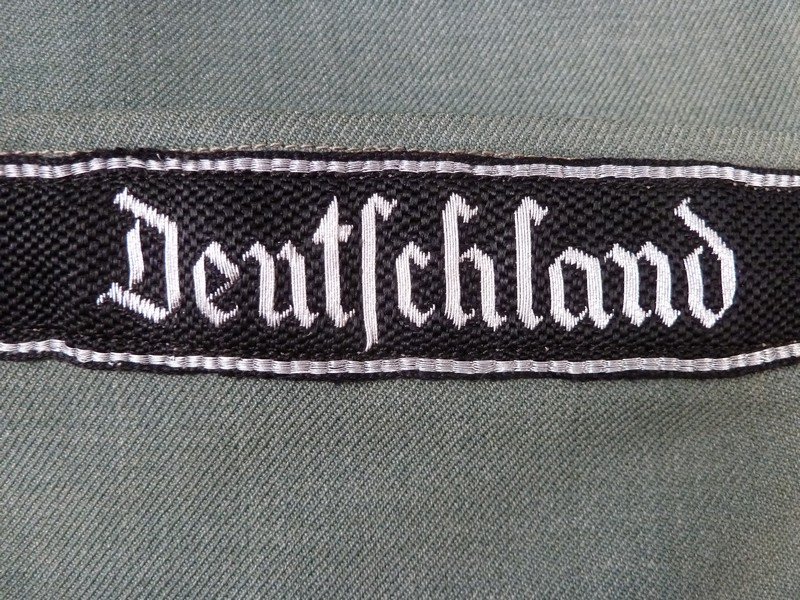 <![endif]>
Hitler visiting Puttkamer in the hospital as he recovers his wounds from the July 20 bomb blast assassination attempt.
<![if !vml]>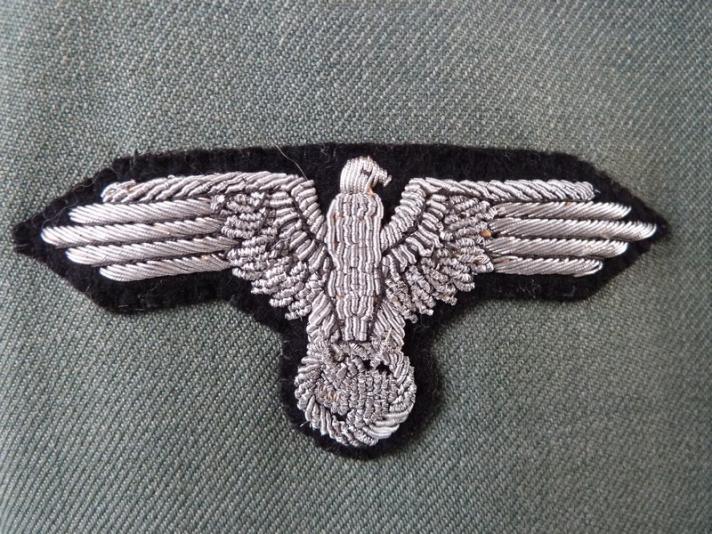 <![endif]>
July 1944, at the Wolfschanze just prior to the assassination attempt. At the immediate left is Oberst von Stauffenberg, the officer who placed the bomb underneath the table in the attempt to kill Hitler. Just to the right of Stauffenberg, facing the camera is Admiral von Puttkamer.
<![if !vml]>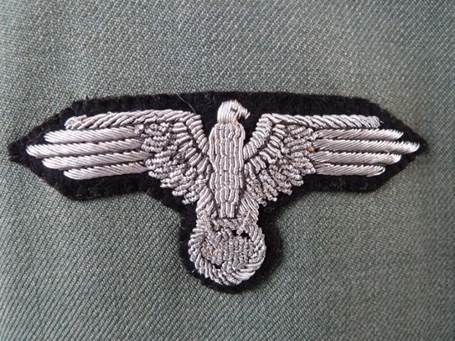 <![endif]>
A signed photo of Puttkamer in the white tunic next to the Fuhrer train (part of the grouping of photos that came with the uniforms).
May 10, 2017 Update
Waffen SS M42 Double Decal Helmet
Update: SOLD
<![if !vml]><![endif]>

<![if !vml]><![endif]>

<![if !vml]><![endif]>

<![if !vml]><![endif]>

Description:

M42 pattern ckL produced helmet featuring double decals (SS runes on the right side, party decal on the left side), well worn with an intact liner but missing the chin strap. The helmet shell is a large size 70.

Background:

This helmet originated out of an old collection of which the current owner spent 35 years in pursuit.  The goal was to collect size 70 shells from all of the branches of service, a quest the current owner has now given up!

History:

The Waffen SS stopped the use of decals on helmets 18 months after the issue of M42 style helmets, so it is incredibly rare to find an M42 with double decals and many that have been encountered are re-issue that were found in use by a variety of units (everything from Normandy defenses to Foreign units and concentration camp personnel).
If you would like more information and are interested in acquiring this interesting piece of history, please contact me.
March 15, 2017 Update
Luftwaffe Ace Gordon Gollob's Formal Oakleaves Document
<![if !vml]><![endif]>

<![if !vml]><![endif]>

<![if !vml]><![endif]>

<![if !vml]><![endif]>

Description:

Standard pattern formal award mappe and document for The Oakleaves To The Knights Cross Of The Iron Cross that was awarded to Gordon Gollob.  The formal document is a large double paged parchment with the right facing side showing the award description and award date in black-brown ink calligraphy with the recipients name in raised genuine gold leaf letters.  The national emblem of the eagle & swastika is also finished in gold leaf and at the bottom of the document is Adolf Hitler's original ink signature.  The outer mappe (cassette-folder) is an ivory colored velum parchment with a large gold fire-gilt bronze wehrmacht eagle affixed to the front cover.  The typical gold hand tooled edges are present as is the small gold "Frieda Thiersch" mark at the bottom inner page. The mappe cover and document both show moisture damage which occurred as a result of Gollob's awards and documents being buried beneath a barn at the end of the war to protect them from being looted by the invading Allied troops.

Background:

This Oakleaves document was part of the large grouping of Gollob's awards and documents that were purchased from the Gollob family several decades ago. Included in this grouping were all of Gollob's consecutive Knights Cross awards and formal documents to include his Knights Cross of the Iron Cross with Oakleaves, Swords & Diamonds.  It was an amazing grouping, the likes of which may never be seen again.

History:

Gordon Gollob was one of the top fighter ace's in the Luftwaffe during WWII, having downed 150 enemy aircraft in  over 340 missions, most of his action coming on the Eastern front against the Russians.  His first victory was on September 5, 1939 in Poland just days after the start of the second World War. Gollob was removed from aerial combat missions in October of 1942 over concerns he would be shot down and spent the remainder of the war first commanding fighters and then acting as inspector.  Gollob survived the war and went on to lead a long life, passing away in September of 1987 at the age of 75.

<![if !vml]><![endif]>

<![if !vml]><![endif]>
If you would like more information and are interested in acquiring this interesting piece of history, please contact me.
March 7, 2017 Update
Generaloberst Erhard Raus' Shoulderboards Grouping
Update: SOLD
<![if !vml]><![endif]>

<![if !vml]><![endif]>

<![if !vml]><![endif]>

Description:

A personality grouping belonging to Generaloberst Erhard Raus, to include; Generaloberst shoulderboards, cloth German Cross in Gold, two letters to Raus from his wife while a POW, new years wishes to Raus from the Army School he commanded. Standard pattern General officer shoulderboards consisting of gold & silver interwoven cords with four bends on the side and a button loop at the top. Bright red (branch color for Heer Generals) underlay of badge cloth with tongues attached (slip-on style) for use in removable board applications.  These boards have the much less often encountered basketweave style of embroidery of the inner silver cords (more typically these silver braid are seen in the soutache style).  Three aluminum rank pips are positioned in the diamond style pattern of two side by side pips at the base of the board with a single pip centered directly above indicating the rank of Generaloberst (equivalent to a four star General).  The boards exhibit a moderate amount of use and age toning to the silver and gold but are in very good to excellent condition.  A single screw post shoulder button in pebbled gold is affixed to the left shoulder position shoulderboard.  Generaloberst is one of the more difficult and rare ranks for the collector to find, as few men attained this rank. In the German army (Heer) there were a total of 55 men promoted to this rank, a third of these Generaloberst, 18 men, eventually became Field Marshal.  Cloth German Cross in Gold on field grey backing, removed from the uniform of Raus and in very good condition showing age and use.  Two letters from the wife of Raus addressed to him as a POW in Badgastein, Austria with envelopes and a formal document to Raus from the Army School that Raus commanded, expressing new years wishes to him.

Background:

This small grouping was recently separated from a larger grouping of material attributed to Erhard Raus and obtained from his family that has circulated amongst several collectors and dealers. Included in this large grouping was an abundance of his insignia to include three pair of Generaloberst shoulderboards (including this pair), three single General officer collar tabs (of a very unique and unusual design, yet documented in period photos of him), a gold bullion breast eagle, his greatcoat with red lapels and Generaloberst shoulderboards, his visor chin cords and most of his medals and awards to include several worn specimens of the German Cross in Gold.  Photos of the grouping are available to potential buyers.

History:

Generaloberst Erhard Raus is most well known for his role as commander of the 6th Panzer Division as it drove through Russia during Operation Barbarossa.  Raus was known as a brilliant frontline tactician capable not only of assault but more so for his defensive abilities, via timely and skillful withdrawals of troops with minimal losses through the unique creation of his "zone defense". After the war Erhard Raus authored the book "Panzer Operations: The Eastern Front Memoir of General Raus 1941-1945" covering his time in the Russian Campaign.  General Raus was decorated with the Knights Cross of the Iron Cross with Oakleaves and the German Cross In Gold.

<![if !vml]><![endif]>

<![if !vml]><![endif]>
If you would like more information and are interested in acquiring this interesting piece of history, please contact me.
<![if !vml]>

<![endif]>