<![if !vml]><![endif]>

Terms and Conditions

of Sale for

Militaria
The original items offered for sale on this site are mostly pieces consigned by fellow collectors with similar interests, as well as some items I occasionally acquire for resale.  Purchases made here will be treated the old fashioned way; with an examination period of one week for you to determine whether you're satisfied with the piece, and a full refund (less shipping) no questions asked if you're not.  Pretty simple.  Some consignors may have different examination periods and in those cases you will be informed of exactly what the time frame is prior to payment.  Details below.
(Terms Updated as of 12/1/21)
Ordering Information
Please contact me via email with both the description and the item number of the piece that you are interested in to make sure it is still available.
Also please include all of your contact information including shipping address (zip code in U.S. or the name of your country if international) so that your shipping charges can be estimated into any final cost estimate as well.
Payment Options
Payments Made Within the United States:
International Payments From Outside of the United States:
Payment is due in U.S. dollars, for the full amount.

Preferred payment method is via direct Bank Wire Transfer.

 

For orders under $1500 there is a $30 wire fee.

Any items that are put on a payment plan are subject to a $30 wire fee for each wire payment, regardless of value.

I also accept Western Union payments

Items must be paid for in full prior to shipment.
Credit Card Payments:
Credit cards are not accepted at present time.
Shipping
Shipping Within the United States
I will ship domestically in the U.S. via FedEx, fully insured by my private insurance carrier (I do not charge for the insurance).

All FedEx packages are sent fully insured within the United States and will require signature upon delivery.

I can ship via the postal service on smaller value items under $1000, insurance costs are additional and through USPS.

Any damage to the items during shipment via the USPS is payable to the buyer by the carrier.

Items are generally shipped within one to three business days of receipt and clearance of payment.

 

When shipping by FedEx you will receive automated email updates from FedEx with detailed tracking.
International Shipping (outside the United States)
I ship via FedEx, which I find to be fast and safe, and can provide you an estimate on this cost.

 

Other options are available, depending on value and payment method.

When shipping via FedEx, I can ship fully insured against loss or damage during transit (it does not cover seizure or destruction of property by order of governmental authority including under quarantine or customs regulations or damage or loss due to acts of war or nuclear hazard).

Buyers are liable for any customs or duty fees.

Shipments to countries that ban Third Reich items are at the buyers risk and the buyer is liable if the package is seized by customs.
Examination Period and Returns
There is a

seven calendar

day examination period

upon receipt of the item.

After the examination period expires

all sales become final

.

 

If satisfied with the purchase, a buyer may also inform me that the sale is final prior to the expiration of the

seven day

period.
Items may be returned during this examination period, for a full refund less all shipping costs and restocking fees (if applicable) if you are not satisfied with your purchase provided that the item is returned in exact, un-altered and un-damaged condition.

 

Any items that are found to have been switched for a similar item or damaged or altered in any fashion (including cleaning, polishing or disassembly) will be returned to the buyer and the sale will be considered final.
Notice to return items must be documented by email, before expiration of the

seven day

examination period. The item must then be returned within seven days of providing notice to return.
The majority of original items for sale on this site are consignment.

 

At the end of the examination period sales are considered final and the consignor is paid off.

 

Your acceptance of these terms is acknowledged when you place an order.
Buyer pays for all shipping costs for both the initial shipment and any returns.

 

Refunded balance, less all shipping/insurance costs, deposits or re-stocking fees will be mailed within five days of receipt of returned item provided it meets all conditions of the return.
Holds/Layways/Deposits
A quick note about layaways and payment plans;
Over the years as prices have increased and purchasing some items can be a challenge for the collector to pay for in one lump sum, the dealer community has adjusted and allowed their customers to purchase items on payment plans.  This has always been a "good faith" effort on the dealer's part to help the collector purchase an item.  Unfortunately as the number of payment plans and layaways have exponentially increased, so too have the issues of collectors breaching the agreement and not paying on-time after dealers have essentially provided an interest free loan.  Where this creates problems with my business is with the consignors, as they expect to be paid off within the time frame agreed upon.  The consignors are the foundation of the nice merchandise that I'm able to uncover and offer for sale, so keeping payment promises to them is vital….not to mention expected. 
If you need a payment plan I will work with you and do everything possible to arrange something that will work for all of us.  I do, however, have strict requirements in following the agreed upon timeframe for this so please read carefully my terms below.  Please also note that I do have some consignors who will not permit a payment plan, and this is because of previous problems with guys not paying on time as they agreed.
Layaways/Payment Plans/Deposits
Layaways and payment plans are often available, depending on the item, and what the individual consignor will agree to.

 

If you are interested in a layaway, please ask and we can discuss what can be worked out.

 

Please also read my Standard Payment Plan terms listed below.
Layaways are not subject to negotiation of price!

 

If you want a deal, be prepared to make a single payment purchase.
A deposit will be required, dependent upon the items value and what is agreed upon, but generally 25% - 30% of the sale price will be required or expected.

 

In some cases trade merchandise may be accepted as deposit.
Deposits for payment plans are NON-REFUNDABLE if sale is canceled by

buyer, if

item is returned or if final payment is not completed as agreed.
If you have multiple items on a payment plan, nothing will be shipped until all items are paid for.

 

Each item will require a deposit to hold.
Holding/Reserving Items
If I know you or we've done business before, I will hold an item for one week pending either the full payment or a deposit to hold the item.

 

A minimum deposit of 25% of the value of the item will be required to put a piece on hold, unless other arrangements have been agreed to.

Hold deposits are non-refundable if you change your mind and decide not to buy the piece or fail to make the remaining payments within the agreed upon time.
Standard Payment Plan
Typically I will agree to a payment plan for most items over $500 and have standard terms for this, which are as follows;
90 day term from deposit to final payoff

, in which I am providing you with interest free financing.

A non-refundable Deposit of 25% - 30% of the items value

is due within 7 days of agreement to hold item.

Unless prior arrangements are agreed upon, if full payment is not received within 90 days, the sale will be considered in default, the deposit

forfeited

and the item relisted for sale.
Extended Payment Plan
Depending on the item and what my consignor will agree to, in rare instances I can offer extended payment plans on some of the higher value items.  Please contact me to discuss what may be worked out.  Except for the length of term, all of the above other terms will be the same.
<![if !vml]>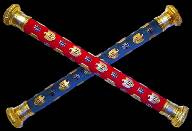 <![endif]>
<![if !vml]>

<![endif]>