<![if !vml]>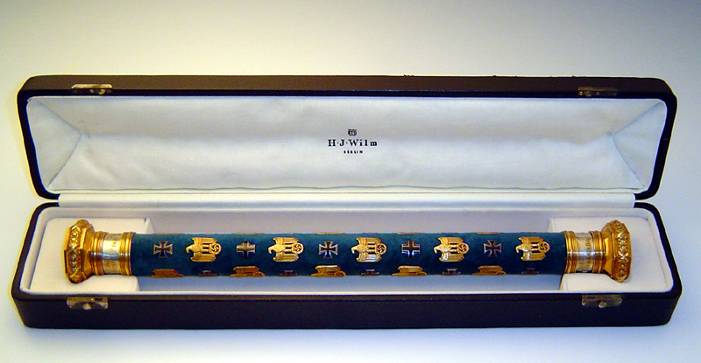 <![endif]>
About this website….
Welcome!
The purpose of this website is to offer a valid reference point for educating collectors and historians about High Ranking officer's uniforms and insignia, with a focal point on featuring German General and Field Marshal military uniforms and insignia.  You will find detailed photos and descriptions of authentic period insignia, uniforms and other regalia so that both collectors, historians and the casual observer alike will have an accurate reference point to study original specimens.  While the German Field Marshals and Generals of World War Two are the obvious primary focus, the site plan is to expand into an equally detailed study of WW2 era higher military ranks of other nations such as the Soviet Union, United States, Great Britain and Japan.
The site will remain a work in progress as new reference material is added on a regular basis, both in photographic specimens and expanded narrative description.  At present time it is visually structured around photos of original examples of insignia, uniforms and badges of rank. Eventually I will be adding more in-depth personality studies of the General officers…something beyond the typical history books detailing battle tactics and campaigns, delving instead more into what the actual men were all about. 
Photographs; submissions and credits-
This site would not exist without the generous contributions of collectors.  Many thanks to those of you who have gone above and beyond to make sure all the 'holes' were filled.  I could not have done this without you!  Any visitors to this site who have authentic Field Marshal, General officer, or Admiral rank militaria in their collections and would like to contribute photos to post on this site as reference for others to study, please visit the submitting photos page.  In particular I'm interested in insignia, uniforms, command flags…..anything directly pertaining to a higher rank.  I will credit your photos if you wish, or list them as 'private collection' if you prefer to remain anonymous.
All photographs, images and text on this website remain the property of the site (unless otherwise attributed or donated) and may not be reproduced or otherwise used without written permission.  Photo credits are listed where requested.
Items listed for sale and consignment-
The primary intention of this site is to act as an online reference for higher ranking militaria, as noted above.  However, being an avid collector and full-time militaria dealer, I also have access to many items that are available for sale, and these will be listed in the 'For Sale' section.  Most of the "for sale" inventory consists of quality consignment pieces obtained from other advanced collectors.   If you are looking for a particular item, or would be interested in consigning items from your collection please contact me via email and I'll be happy to discuss it with you (or visit my Consignment page).  I know many other collectors who are looking for specific items or have something to sell and may be able to help you out. 
If you are a veteran or family member and have some 'war souvenirs' in the family that you would like me to research, establish a value or assist in finding buyers, I welcome the contact and will gladly try to help you out.
About the site author….
Since I was a young boy growing up in the 1960's I've been a World War Two history enthusiast and have always been fascinated with the high ranking personalities who shaped the direction of the war.  This website is the progeny of that early passion and if you are here visiting for the first time hopefully you already have an interest in this as well, and will enjoy what I have assembled.
As a military memorabilia collector I was always frustrated by the lack of detailed information available for this niche end of collecting, particularly considering the notoriety many of these high ranking personalities achieved.  Finding good reference on medals, helmets, guns, etc. has always been relatively easy, but there was nothing existing which focused on high ranking officers.  As a result, I took the initiative and have created 'the reference book that I had always wished existed', and instead turned it into a website.  Or, as I like to call it, the online 'reference book you don't have to pay for'.
I am not an expert in this field, merely a passionate collector who loves history and possessing the pieces associated with what is certainly the greatest war our world has ever seen.  During World War Two there were more senior ranks created, such as field marshal, than ever before or since.  The sheer power such a rank bestowed upon a single man is quite incredible in itself, and studying these personalities and how they made decisions affecting the life or death for literally millions of people is quite awe inspiring, if not also frightening.  They were often ordinary men, like anyone else, thrust into the ultimate power position during a moment in history which made many of their names legendary, and some nefarious.  Given time, this website will reflect more on their personalities than their regalia, but for now it is a start.
Beyond this history, I appreciate the quality and detail involved in the insignia and regalia created during the 1930's and 40's, as it reflects an era of design and handcrafted trades which no longer exist.  It can be admired as much as early tapestries or fine art, if you examine it closely.  While visiting the site and reviewing the photos, I hope that you can form an appreciation of the quality and effort that went into the creation of these symbols of ultimate power….the badges of rank.
If you are a collector with similar interests, I'm always interested in sharing knowledge and photographs.  If you are a veteran or family member of a vet, please send me an email as I welcome your contact and answer any and all inquiries.  And, if you are a young person interested in this history and have questions, please ask…I strongly encourage young people to learn more about this historic war, as it is a time that should never be forgotten.
Regards,

Michael Holverson

You may contact me here.

<![if !vml]><![endif]>